SAVE THE DATE:The next conference is scheduled for February 16 – 17, 2017 at Queen's College in Guyana.
Beginning in October 2014, we've hosted a conference each academic year with students at Queen's College. The annual conferences have had a combined participation of over 400 students from Queen's College and invited schools from the area. Some of the invited schools in the past included North Georgetown Secondary, Annandale Secondary, Richard Ishmael Secondary, Christ Church Secondary and Bishops' High School.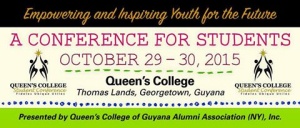 The conferences feature seminars and workshops that are facilitated by Queen's College alumni and friends. Seminars and workshops offered in the past include
Steps to Respect: Strategies to Stop Bullying
Youth Volunteerism
Coming to America – To Study: Higher Education
The Mindset of an EntrepreneurThe Mindset of an Entrepreneur
Information is Power: Make Your Own
Goal-Setting and Time Management n the Digital Age
The Audacity to Pursue Your Passion: Lessons From a Recovering Chemical Engineer
Step by Step to a Career in Petroleum and Geology
From Product Conception to Marketing: Hands-on Business Development
Developing Critical Thinking It's Time to Activate Your Dreams
Education and Development: The Power to Change the World
Engineer? Yes, You Too Can be an Entrepreneur
Let's Talk about Study Skills
Creating & Nurturing Mathematicians and Mathematical Scientist
It's Time to Activate Your Dreams
Law and Legal Advocacy
You Are The Perfect Product
A Career in Oil and Gas
Music and Brain Development
Get Into Rugby
Cricket Lovely Cricket
Leadership and Initiative
Among the intended short-term outcomes for students are an increase in subject-area knowledge as well as improved access to alumni resources for mentoring possibilities. We hope that through exposure to supplemental information and soft-skills training, students will be better prepared for post-secondary life. Some of the seminars feature group activities to help with teambuilding.
Student Conferences In the News
Capitol News Clip
QC Alumni NY Inc to Host Student Conference