2017 Queen's College Student Conference
Empowering and Inspiring Youth for the Future
Do you want to have fun and meet new friends while gaining valuable knowledge and skills from local and international professionals? YES? Then see if you are eligible to register for the Queens College Student Conference (QCSC)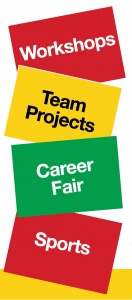 THE CONFERENCE IS FREE
AND
LUNCH IS SERVED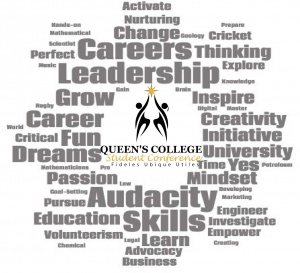 SAVE THE DATES:
Thursday February 16, 2017: 8:30AM to 3:00PM
and
Friday February 17, 8:30AM to 3:00PM
Registration Deadline February 6, 2017 :
" This should be done every year" – student from You Are the Perfect Product Seminar presented by Eric Phillips (2014)
"This session was extremely informative and exciting. It was refreshing, having offered new thoughts and ideas" – student from Law and Legal Advocacy seminar presented by Dawn Holder (2014)

"It was an excellent workshop; I learned much as I am pursuing a career as an entrepreneur. I hope that this continues to happen (the workshops!) – student from The Mindset of An Entrepreneur presented by Mark Dalgety (2014)
"Student conference was much appreciated and will surely have a positive impact on everyone present in any session. I look
forward to seeing more frequent events such as this one."  Student (2015)
FIRST 25 ELIGIBLE STUDENTS WHO REGISTER ONLINE  CAN WIN PRIZES!!!
Eligibility
To be eligible to register you must be
a. Current enrolled at Queen's College, Bishops High, Christ Church Secondary, North Georgetown Secondary, Annandale Secondary, Tutorial High, or West Demerara Secondary Schools.
b. A student in good standing (not currently suspended, etc.) 
c. In 3rd Form through Upper 6
You must obtain your principal's permission prior to registering if you are not a student of Queen's College
ONLINE REGISTRATION  Save trees! Win Prizes*
2017 QCSC Registration Form  Download and Print then hand in to your principal (QC students, please hand in to Ms. Ogle) or contact your principal for a registration form.