The Queen's College of Guyana Alumni Association (NY), Inc.,  in collaboration with k12youthcode, presented its first Math, Coding & Robotics Summer Camp at Queen's College in Georgetown, Guyana from July 18th to July 29th, 2016.
This program was designed and developed to sustainably implement a developmentally–appropriate and culturally resonant middle school learning environment that engages Guyanese students in a cognitively rich mathematics learning experience that affirms and aligns with their cultural and social identities and places them securely on pathways to STEM excellence. This learning environment  integrated mathematics, coding and robotics; our target group was rising third form students from Queen's College, Tutorial, and Bishops' High School.
Some of the objectives of the Math and Robotics Institute included:
to provide activities and academic support for students to better prepare them for mathematics success on national Mathematics Assessments.
to develop students' mathematical and coding interests and talents, and to increase the number of middle school students in Guyana interested in Mathematical and Technology careers.
to provide extracurricular opportunities to extend mathematical knowledge and skill beyond the elementary school curriculum.
The camp covered  a two-week period, July 18th - July 22nd and July 25th – July 29th, 2016. Week 1 consisted of Math sessions daily from 10:00 a.m. to 3 p.m., and in Week 2 offered a Math session from 10:00 a.m. to 12:00 p.m., followed by a daily Coding/Robotics session from 1:00 p.m. to 3:00 p.m. Lunch and snacks were provided daily.
There were field trips to Uitvlugvt Sugar Estate, courtesy of the GuySuCo; Banks DIH, courtesy of Banks DIH; and The University of Guyana, courtesy of the Office of the Vice-Chancellor Professor Ivelaw Griffith.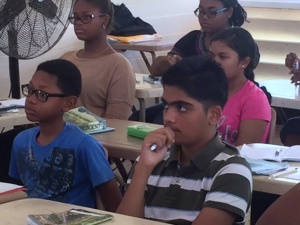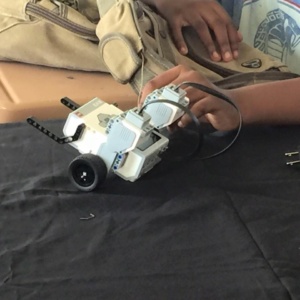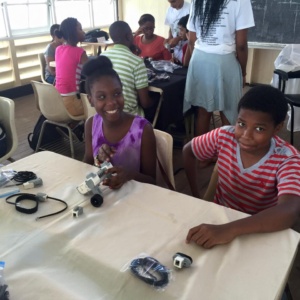 Offered at no cost to students, the summer camp was led by mathematician Dr. Terrence Blackman, Queen's College alumnus and chairman of the Mathematics Department at Medgar Evers College in Brooklyn, New York, USA.  Also participating were John Campbell, Saran Nurse and Cleveland Waddell of QCAANY; Guyana-based alumni Lance Hinds, Mizana Gonsalves, Ede Tyrell, Dr. Frank Anthony, and Carlton Joao; and  Delon Ogle, teacher of Queen's College.